Your One-Stop Shop
Our friendly, knowledgeable auto service team is here to ensure your vehicle, no matter the make and model, receives the top maintenance and repair options available – from the parts that touch the road to under the hood. We've got a guy for that!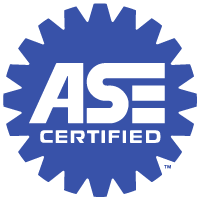 Not only is Belle Tire is committed to getting you THE LOWEST TIRE PRICE, PERIOD!, but we'll also provide the highest-quality in automotive repair and service. Our Automotive Service Excellence (ASE) Certified technicians and mechanics are tangible evidence of this pledge of excellence. The National Institute of Automotive Service Excellence provides this certification to demonstrate the technical and mechanical expertise of industry experts. They must retest every five years to ensure they have a comprehensive understanding of advancing automotive knowledge.
Our guys want to improve your car or truck's handling and enhance its performance with a wheel alignment every six months or 6,000 miles.
Shocks and struts give your vehicle a smooth, safe and comfortable ride. Every vehicle is different, which is why we make sure our guys are certified to work with every kind so that you get the most out of your time on the road.
When it comes to brake maintenance, repair or installation, keep your brakes in good working condition to help ensure your safety on the road. We have the best guys in the business for the job!
Having your car battery checked, at least, once a year if it is more than two years old is crucial to your car or truck's overall performance. Let our guys give it a full inspection today to keep your vehicle running properly.
Let our guys help maximize your vehicle's engine life with regular oil changes, helping reduce engine wear which means it works longer and better for you.
Making sure your vehicle is ready for the cold weather is critical to you and your family's safety on the road. From the tires to the brakes and batteries, you want to make sure your car is in great condition this winter. Belle Tire wants to empower you with car care and maintenance tips for getting your ride ready for the season.
Your vehicle's heating and cooling system is important to the comfort and safety of your ride. Let our guys make sure it's in great condition for every season.
Your vehicle's coolant system is an important component to your vehicle functioning properly. Our guys are certified and trained with the latest technologies to help inspect your automobile and avoid potential expensive repair costs in the future.